Standard Bag Printing Machine
For regular bag sizes of 32″x52″ to 44″x52″ bags. Woven Sacks Flexographic Bag Printing machine with micron level accuracy to get precise registration between different colors. We supply up to 4 colors printing machine.
Description
Types of Attachments:
Bag Stopper Attachment
Bag Collection Table
Brush Roller Attachment
Features
Anilox Rollers :
To save 25% of ink consumption & give excellent printing clarity.
Stopper Attachment :
Draw Rollers actuated by adjustable cam for synchronizing with Stopper Attachment to print at exact position of bag (i.e. you can set exact margin) there by eliminating judgment of operator.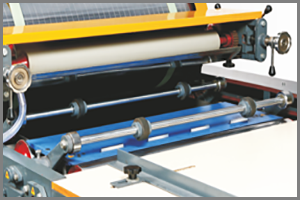 Brush Rollers :
Can be use at each station for cleaning of stereo.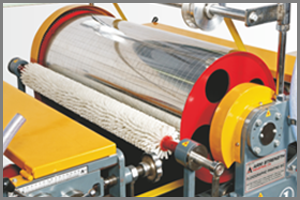 Bag Gripper :
Bag hold down tapes ensures that the bag is gripped from take up to the point of release. It gives good registration between different colors. (Especially for light weight fabrics)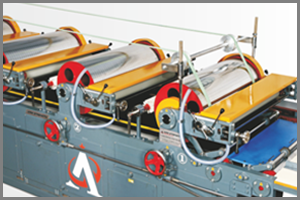 AC Drive :
To regulate/ to do variation in speed. It will increase life of machine parts, specially gears. It reduces stereo setting time & easier for machine cleaning.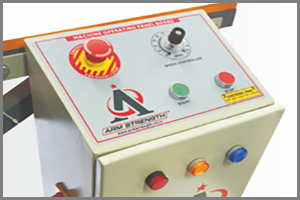 Ink Drying Heater & Blower :
For quick drying of printed ink, at bag output side of machine.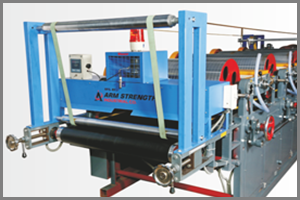 Technical Specification
TECHNICAL SPECIFICATIONS

Model

No. of Colors
Max. Fabric Feeding Size

Material

To

Print

Production capacity

Motor

Stereo
Width
Length
Thickness
Material
AS 3252/1C
One
32 inch /812 mm /0.81 Mtr.
52 inch /1320 mm /1.32 Mtr.

PP/HDPE

Woven

Sack

Fabric,

Non-

Woven Fabric &

Paper Board

35 – 40 Bags / Min.

3 Phase,

1440 RPM,

440 V,

50 Cycles.

*1Hp to 5Hp

(Depends

upon

No. of

Colors)

Min.:2.8mm

Recommended : 4 mm

Photopolymer, Rubber, Nylon can be used
AS 3252/2C
Two
AS 3252/3C
Three
AS 3252/4C
Four
Brochure